Can it be June 24th already?!
Summer, I sure wish you'd heed my earnest pleas to slow down!!
Well how about a NEW sponsor announcement?
Many of us get invited to summer weddings.
If the couple you know "has it all", or if you just want a unique gift they will treasure for a lifetime, how about considering a clock you can customize right down to the color, typography, size, etc.
Here are just a few of my favorites: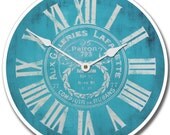 Let's visit our features from last week!
The Post With The Most (views) goes to:
Confessions of a Serial DIYer's gorgeous front yard overhaul one year later.
I can't even believe it's only taken her one year to have such a beautiful response from nature. Perhaps my Miracle Grow is expired?! ;)
Bliss Ranch added cottage charm (okay the HUBBY - don't get jealous ladies - added cottage charm) to an otherwise boring, totally-in-need-of-something door. This is one of those
"Wow, I never would have thought of that"
projects!
Trash 2 Treasure Tuesday Rules:
1. Your post must be a Trash 2 Treasure, but I'm not picky on the "trash" part!
If you took something and made it look better and it's NEW to Kammy's Korner - link it up, Baby! :)
2. Place the Party button found on the right sidebar on the post or somewhere on your blog.
3. Visit the link before you and leave a comment!
I do try to visit each and every one of them eventually!!! It's hard with three little munchkins who need attention and hate mommy's computer time. :)