Welcome to another Trash 2 Treasure Tuesday!
If you are a blogger, this is where you can share your trash to treasure projects with the rest of us. And if you are
not
a blogger, this is where you come to be inspired, get ideas, and just have fun looking at what other people's sweat can produce :)
This past week, Kammy's Korner gained an incredibly rustic
new sponsor that ya'll are just going to LOVE.
The man behind this Etsy shop has prices that will make you grin and will customize his rusty metal goodness just for YOU!
Please welcome and visit Custom Cut Decor: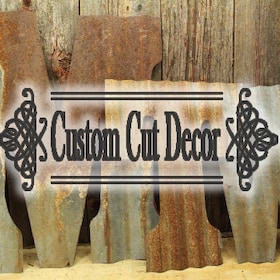 Did you miss what I shared on the blog this week?
I love chalkboards, and I know they flood Pinterest, but THIS is one of the coolest ones I've seen, made with spindles by Renewed Projects.
In The Boondocks took something most of us would have taken to the scrap yard and turned it into a true treasure!
Want to see highlights from the party each week?
Now
Party up, Folks!
Just TWO rules to follow!
1. Your post must be a Trash 2 Treasure, but I'm not picky on the "trash" part! Please no recipes, advice, etc.
If you took something and made it look better and it's NEW to Kammy's Korner - link it up, Baby! :)
2. Place the Party button found on the right sidebar somewhere on your blog - doesn't matter where.
Link up, Buttercup!